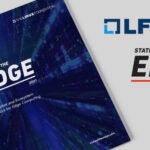 Christine Hall writes in ITPRo:
A recent edge report by the Linux Foundation concluded that COVID-19 has changed the prognosis on which industries will have the largest edge computing architecture footprint going forward.
"Our 2021 analysis shows demand for edge infrastructure accelerating in a post-COVID-19 world," said Matt Trifiro, co-chair of State of the Edge and CMO of the edge data center company Vapor IO, in a statement. "We've been observing this trend unfold in real-time as companies re-prioritize their digital transformation efforts to account for a more distributed workforce and a heightened need for automation. The new digital norms created in response to the pandemic will be permanent. This will intensify the deployment of new technologies like wireless 5G and autonomous vehicles, but will also impact nearly every sector of the economy, from industrial manufacturing to healthcare."
The post 2021 State of the Edge Report Shows Impact of COVID-19 on Edge Use appeared first on Linux.com.
* This article was originally published here